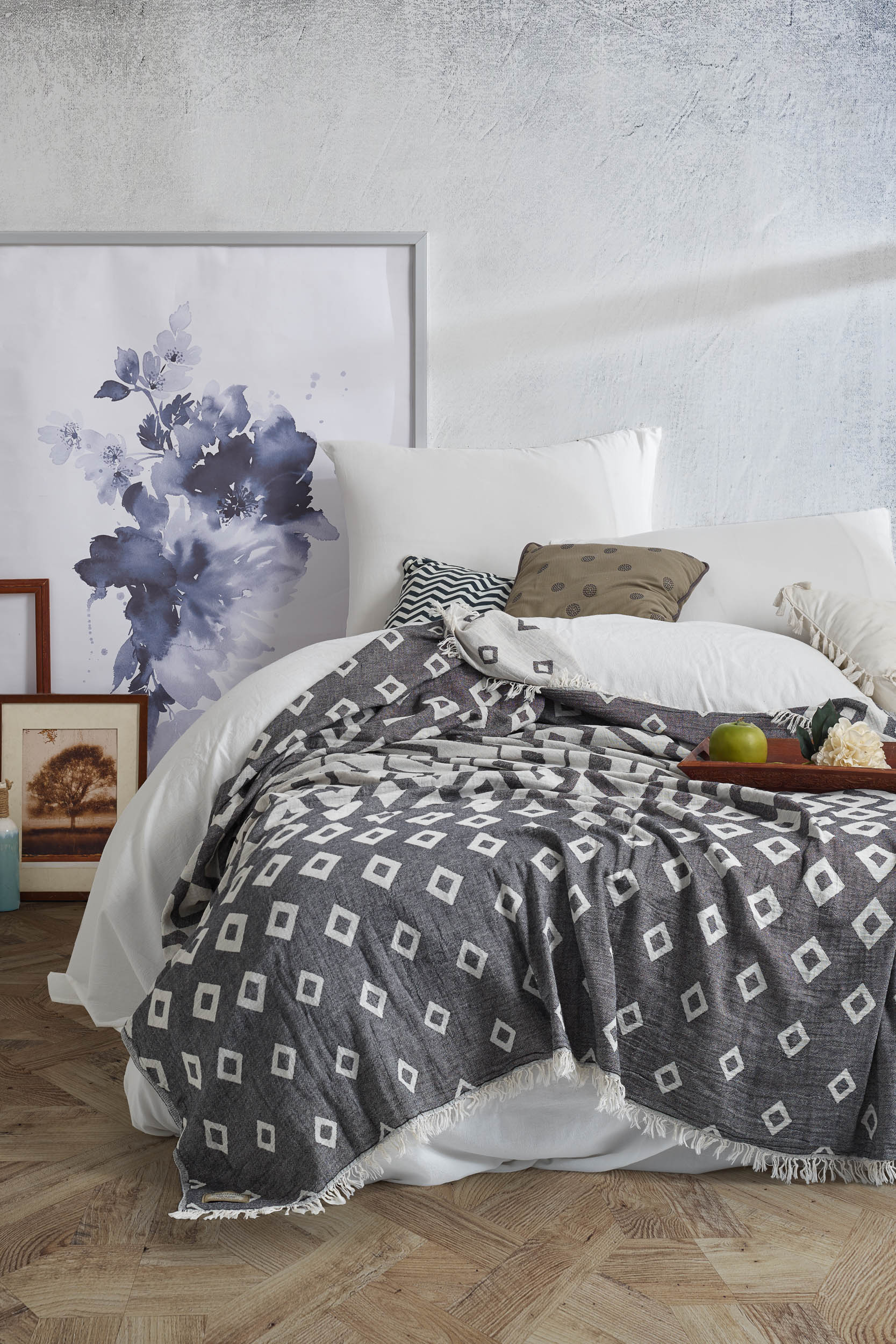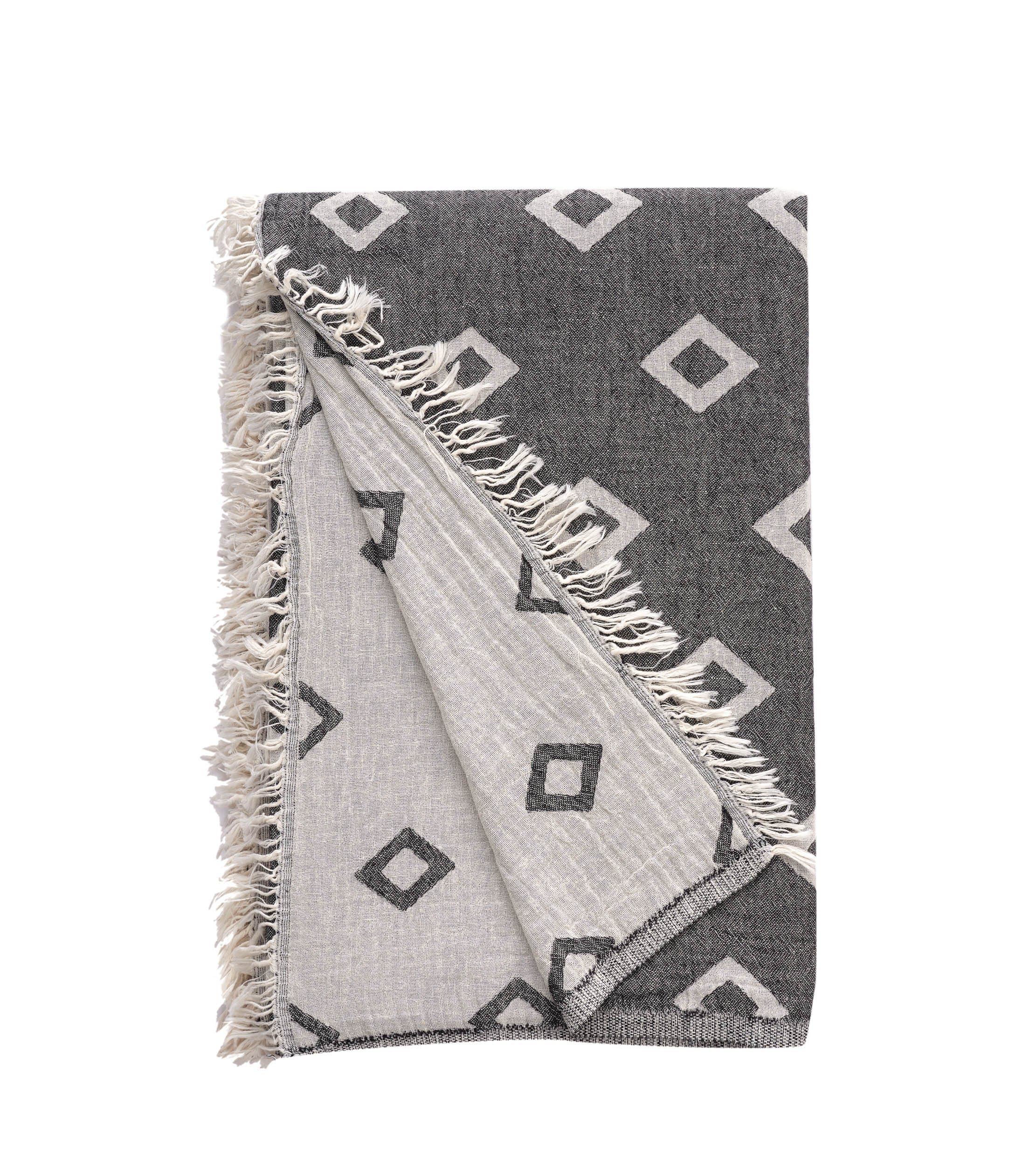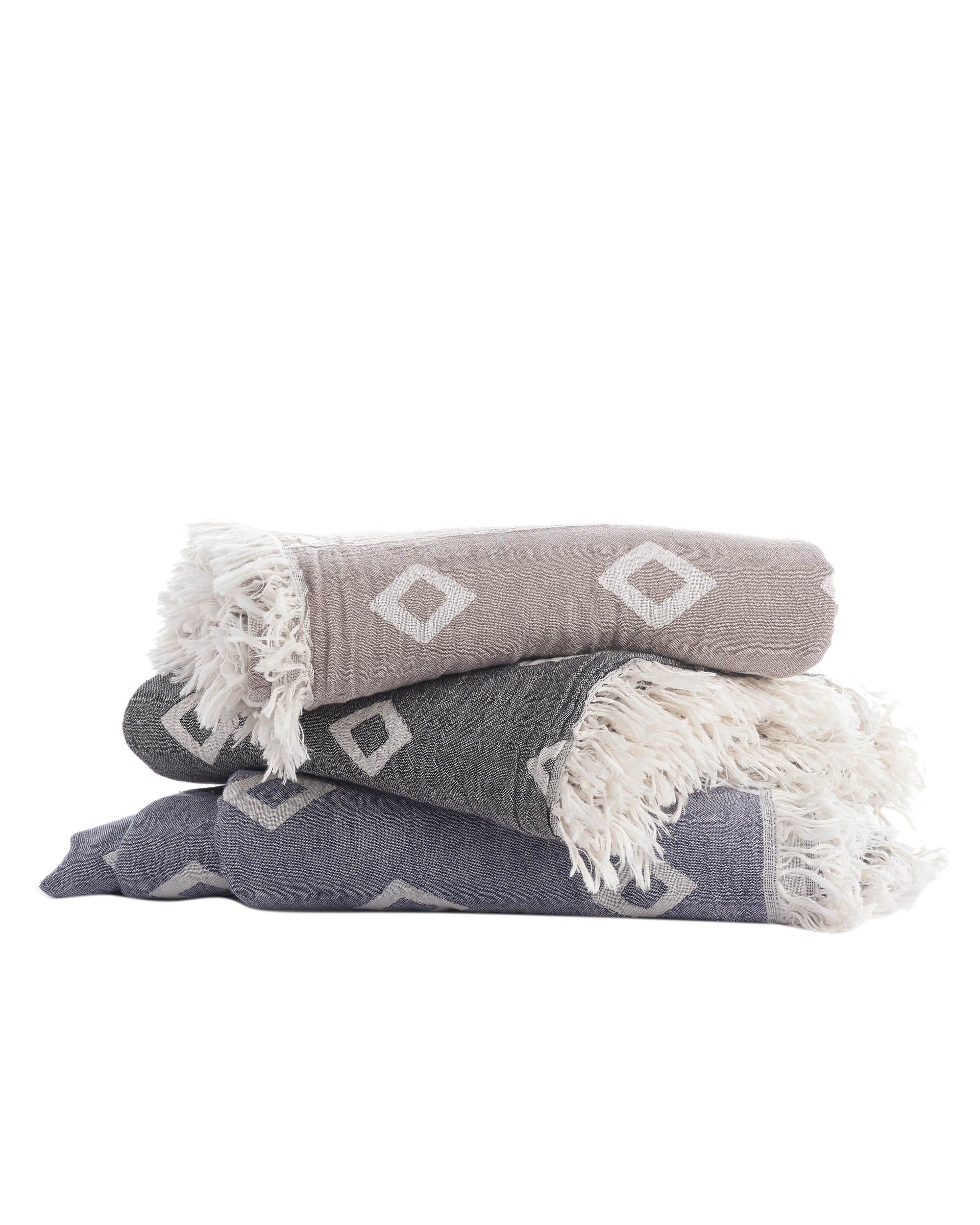 Shore Cotton Bed Blanket - Black
---
Description
Shipping & Returns
Care Guide
Our premium throw line uses our two layer weaving technique, that fuses two different layers into a one perfect weighted blanket that achieves a level of softness and complexion that has no compare.
Its slightly thick, lightweight and breathable nature combined with its reversable sides that has the inverse color combination of the pattern makes it a great equalizer for any kind of color combination in your home.
Its extra-large size and low volume makes it a perfect travel companion - use it a the beach, pool or outdoor camping, lay it on the ground and have a nap, take your picnic fun to another level, our use it to cover yourself in chilly weather. Its durable nature makes it adaptable for your needs, not the other way around.
Designed in Istanbul, Made in Turkey. 
200 * 240 (cm) - 79 * 94 (inch)
900 grams - 32 ounces
100% Organic Turkish cotton
Dual-Layered Jacquard Weave
Short Loose Tassels
Reversable, the backside is completely inverse colored
Oeko-Tex certified, this item is made using eco-friendly production methods and free from over 300 harmful chemicals, toxins or irritants.
All orders are FREE, worldwide. We ship with DHL Express.
Our priority is 100% satisfaction from your purchase at Begonville. In order to keep your products looking like the first day, please check out the caring instructions at the product's labels. 

If you are happy with your product, you may return it within 14 days after your purchase is received.

Please check out our FAQ page for more information.
In order to keep your product pristine, please take care with the following:
Please wash at the slowest setting your washing machine can do. It is usually marked as "Gentle mode" in most machines.
Please do not use acidic chemicals like bleach.
Our gauze fabric has crinkles that is characteristic of its nature. It can be flattened out by hanging it for prolonged periods. In order to fix this, you can wash the product again and it will be back to its original form. For this reason, we recommend drying it by laying it out at a flat surface.
Ironing is not needed and is not recommended.
If you have questions, you can contact us or check out our FAQ page for more information .
Shore Cotton Bed Blanket - Black
Fast Delivery
All orders are shipped within 24 hours on business days, including Saturday.
more info...
Tracking
All shipments comes with a tracking number that you can check your status whenever you want.